Skip to Content
Curved Glass Specialists in Olympia, WA
Curved Glass Replacement & Repair by D.K. Boos Glass Inc.
D.K. Boos Glass Inc. has been providing specialty residential and commercial glass services, including curved glass, throughout Thurston and Pierce Counties since 1978. To enhance our offerings above and beyond all other glass companies in the Olympia area, we have a dedicated department focused on the unique needs of our bent and curved glass customers. We ensure they receive the attentive detail these products require. Contact us today to schedule an estimate.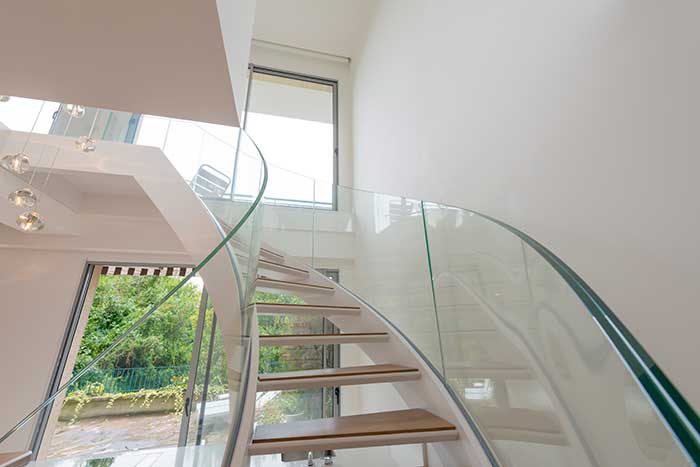 What is Curved Glass?
Curved glass, also called bent glass, is glass that has been heated past its softening point so that it can be formed into a curved shape. It's reheated and reshaped to the desired design and then left to cool in that position. Many of us have curved glass, but it can be so subtle we don't even realize it. However, more elaborate forms are used in architectural designs, revolving doors, and display cases.
Why Do People Choose Curved Glass?
Since glass is completely recyclable, it is an environmentally friendly material that can be used in construction. Bent and curved glass allow for many unique showcasing and structural designs without relying on materials that aren't as eco-friendly. It can also be used as a safety feature, such as a stairway railing while keeping the open feeling of a space. Other designers choose it to accent buildings. In general, it creates a beautiful aesthetic in any commercial or residential property.
We've Got You Covered With Curved Glass Repair
Glass is a very durable construction material, making it suitable for many applications. However, it can be damaged over time or in a rare accident and need repair. Our team is fully qualified to complete jobs of all shapes and sizes, and no job is too small because we understand the careful handling that even the most minor job requires. We offer curved glass services for:
Windows
Shelves
Entry Doors
And More
Learn More About Curved Glass
If you're looking for curved glass suppliers near Olympia, WA, contact our dedicated team at D.K. Boos Glass Inc. We are the area's only glass company specializing in bent glass with a team committed exclusively to this category to ensure our customers receive the absolute best results. Whether you need glass replaced or you want to add bent glass to your home or office, we can provide a custom product to match your design and style. Not sure where to start? Visit our glass showroom in Lacey, WA to see what we can do for you.
Contact Us to Schedule an Estimate or Stop by Today!