Skip to Content
Glass Services in Olympia, WA
The Only Full Service Custom Glass Company in Thurston County
Residential, Commercial, and Auto Glass in Olympia, WA
Since 1978 D.K. Boos Glass Inc. has been the only full-service glass shop in Thurston County offering Residential, Commercial and Auto glass and window services. We service Olympia and Thurston County, Tacoma and the greater portion of Pierce County. Other areas we serve include Shelton, Aberdeen, and Rochester areas. Certain services of ours have an even larger service area. Contact us for more information and see if we can be of service to you.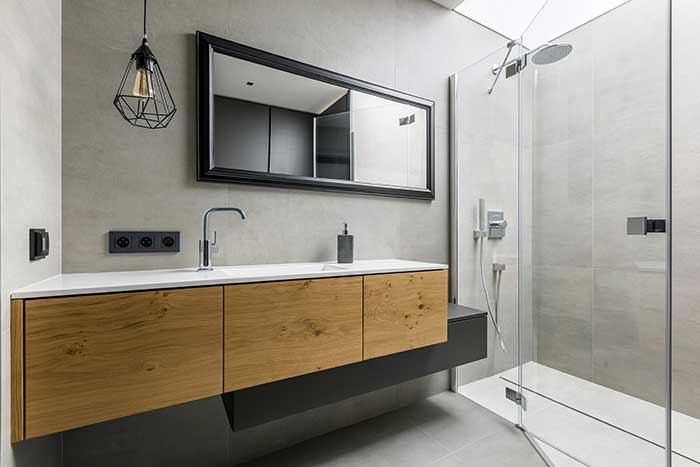 Custom Mirrors
If you need custom mirrors for your commercial or residential property, we can help you. D.K. Boos Glass Inc. is able to get you any type of mirror for any occasion, and it'll all be custom work done by our professionals on site. Just contact us with your specifications and we will come up with a quote for you.
Pet Doors
Fed up of opening the door to let your pet out? Give your pet some independence and get rid of the tedious task of opening and closing your front door with an installation of a pet door! We can install a secure pet door which your pet can use to come and go freely. You will never have to get up to let your pet out again!
What's the Word?
Customer Reviews
I highly recommend using DK Boos Glass. My sliding glass door was completely shattered due to a recent robbery. Jeff was able to come the next day, boarded up the space and created a fair replacement estimate. The two installers did a wonderful job of installation, hauled the old door away and cleaned up inside and out. The whole crew and office staff were just wonderful to deal with, especially since it required an extra step of dealing with the insurance company. I didn't have prior experience with this company but I would highly recommend them. Excellent products and services at a fair and competitive price!!
my windows look great! The crew was on time and very professional. They finished on time.
My husband Mike and I had a great experience with DK Boos. They responded quickly to our request for an estimate, and when we also asked about replacing a sliding door, due to a problem with the lock, the rep suggested a much easier and less expensive repair. On installation day, they arrived right on time, worked quickly, also repaired the sliding door, and cleaned up every bit of debris. The skylight looks great, doesn't leak, and the door is as good as new! We highly recommend DK Boos!
We have had auto glass repair with DK Boos several times. They are very easy to work with from the first phone call until the repairs are finished. They take care of all the insurance issues and are always helpful to answer all your questions for a smooth transaction.
The men arrived on time, were very professional, and cleaned up after themselves. We are very pleased with the workmanship and the product.
Great job from start to finish! Quick and efficient!
Comments: Your company has been a pleasure to work with from very first phone call to final installation of my shower door. This bathroom remodel has been fraught with difficulties and mistakes so I held my breath for yet another episode of bravery but you all were a light at the end of the tunnel. Brian especially, was kindness and professionalism personified. I will eagerly recommend you to any and all. Thank you, thank you, thank you.
We had 11 windows replaced in our home. We appreciated the selection of brands and styles to choose from (we stopped by the shop to see them in person which was helpful). The guys that came out to do the work did a great job, and left everything looking fantastic.rnrnWill definitely use DK Boos again when we are ready to replace our sliding glass doors!
Working with DK Boos was fabulous from start to finish with Jeff coming out and doing the estimate then the return visit to verify measurements to the office every time I called they were able to pull up any info quickly, the guys who did installation were professional and did a fabulous job cleaned up very nicely also.rnWill highly recommend DK Boos to anyone.rnJodi
This is the second time I have had windows replaced in my home by DK Boos. Both times they were very professional and did superior work. The crews that have come to my home have been very careful with my plants and always clean up beautifully! The whole company really works together and seem to respect one another! Thanks for another great job!
They were professional, courteous and responsive in every contact I had with them. One of my old skylights failed before the new ones had come in. DK Boos sent someone out immediately to cover the old skylight and prevent further damage.
Everyone at DK Boos I had contact with clearly loved their job and took pride in their work. I made a very good choice in hiring them. I am thrilled with my windows and give DK Boos my most enthusiastic recommendation!
Today we had a cracked window replaced by Isaac of D.K.Boos Glass. Not only did he do a great job but went out of his way to help solve several problems. I'm an elderly woman and couldn't get a screen off plus slide storm windows so I could clean between them. He not only helped me get them moving, he also washed them, vaccumed the insects out and sprayed them with silicone so I can keep them looking great. Thank you Isaac! It's refreshing to get this level of service.
Every contact with the company has been enjoyable. Ian and Josh were out today and they did an outstanding job. We had a leaky window seal and sliding door which needed new rollers. Thanks again!
D.K. Boos Glass, Franz Street Southeast, Lacey, WA, USA