Skip to Content
Marvin Door and Window Services in Olympia and Lacey, WA
D.K. Boos Glass Inc.'s Marvin Window & Door Selections
D.K. Boos Glass Inc. highlights the look and feels of your home in Olympia, WA, with Marvin windows and doors. Marvin windows and doors custom designs are ideal for the beautiful homes throughout the Olympia and Lacey, WA area, blending sophistication and style with premium materials and intelligent design. Whether looking for stunning new Marvin entry doors or an update to your exterior doors and windows, Marvin products are a favorite in the industry. Since 1978, D.K. Boos Glass Inc. has provided the area with custom glass creations for the best in windows and doors. Give us a call for a free quote or to inquire about your custom project.
Energy Efficient Marvin Windows
D.K. Boos Glass is your source for the best Marvin windows prices. We'll work with you to determine the ideal windows solution based on your needs and personal preferences. Marvin windows are known for their smart design with energy efficiency in mind. We trust Marvin to deliver consistent savings and energy efficiency to our customers. Marvin windows help maximize the comfort of your home with technology like "Low-E" glass coatings, triplane glazing, and insulating glass. We invite you to review our gallery, where you'll find eye-catching examples from our expert window installer team.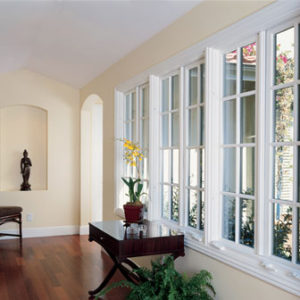 Marvin Window Types
Our team will help you find the best window for your home, from single-hung windows to specialty-shaped windows. Marvin offers multiple types of windows, including:
Single Hung Windows
Double Hung Windows
Specialty Shaped Windows
Casement Windows
Coastal Windows
Tilt Turn Windows
Bay Windows
Bow Windows
Round Top Windows
Marvin Door Types
Marvin door selections are vast, from Marvin French doors to Marvin patio doors. We have it all, including:
Sliding Glass Doors
French Doors
Patio Doors
Coastal Doors
Scenic Doors
Why Choose Marvin Windows & Doors?
Marvin windows and doors are known for their high-quality design. Many of the windows feature fiberglass construction for a warp and rot-resistant build. They also offer durable all-wood and wood-clad window designs with a durable and gorgeous build. Homeowners love the low-maintenance construction of Marvin windows. The thermal performance of the low-maintenance design boosts the comfort of your home. The windows and doors won't fade over time, making them a lasting purchase. Beyond their superior construction, Marvin windows are available in many different window material options, types, and sizes.
Large Selection of Marvin Doors
We offer a full range of custom Marvin doors to bring your home to life. Marvin's custom approach to door installation provides excellent flexibility, which means there is an option for every home. Marvin doors are designed, engineered, and crafted to bring a sense of quality into every room and deliver uncompromising protection and performance. Whether it's a classic French patio door, a modern interior door, or a large scenic door that blurs the boundaries between indoors and out, Marvin doors provide virtually unlimited custom sizes, configurations, and design options that work together seamlessly. All Marvin doors are made with energy-efficient products. Many of our products even qualify for an energy-efficient tax credit, so be sure to ask if you're interested.
Contact Us Today for an Estimate
Our expert team will help you find the best Martin doors and windows with our guidance and samples. We service Olympia, the Thurston and Pierce County area, Lacey, Tumwater, DuPont, Lakewood, and South Tacoma. Check out our residential, commercial, and specialty window services. Let us help you find the best Marvin windows and doors for you! Contact us today for a quote!
Contact Us to Schedule an Estimate or Stop by Today!